Buying loads of baby clothes is incredibly tempting. However, you may have some questions whether you are buying newborn baby clothes for the cutie sleeping snuggly in your baby bump or purchasing clothes for someone else. What will you need? What sizes do you buy, and how many of each? Do you need accessories? 
When buying newborn baby clothes, figuring out the answers to these questions takes some time and planning. But rest assured, we're here to help you along.
Buying Newborn Baby Clothes: What to Consider
No matter how exciting it is to purchase newborn baby clothes, you need to consider a few things and plan before buying every precious item you see.
According to the Mayo Clinic, babies tend to double their birth weight and grow about an inch during their first five months. From approximately six months to a year old, babies tend to triple their birth weight and get even taller.
Consequently, they will outgrow their clothes relatively quickly.
Also, the laundry piles up fast! Let's face it, for as cute as they may be, babies make messes (unintentionally, of course). Therefore, consider how much laundry you plan to do after your baby arrives.
The more laundry you do, the fewer clothes you will need. Whether it's spit-up or the exploding diaper, once some yuck is on the baby's clothes, you will change him. Some days you may change your baby twice a day, and other days it might be six times a day. Babies are unpredictable like that.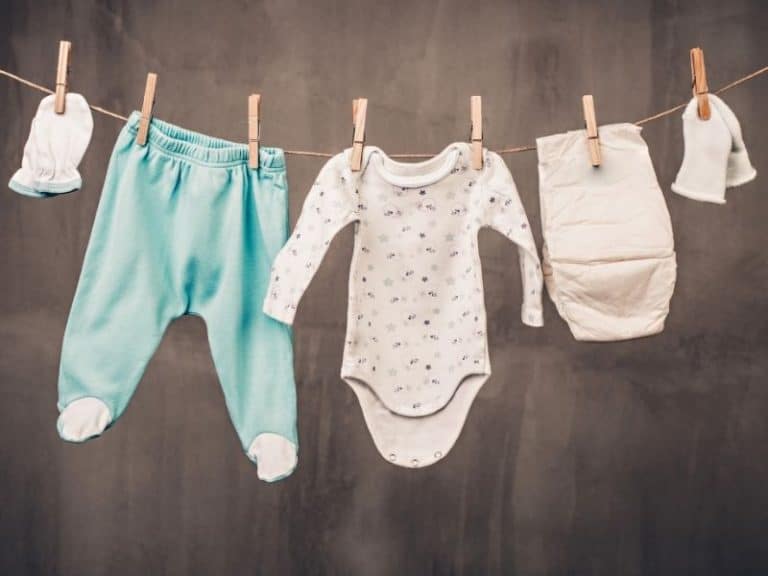 If you are unsure how to calculate how many pieces of clothing to have on hand, use this as an overall measurement: On average, plan to change your baby approximately four times a day and complete a load of the baby's laundry once every other day.
In terms of colors, you can dress your baby in any color you'd like. However, one thing to consider is that if you want to have more children and reuse the clothing, buying gender-neutral colors is helpful.
Have fun choosing! Mix it up, too.
The Best Newborn Baby Clothes: What You Will Need
There are tons of adorable baby clothes. Tons! But, certain items are "must-haves" and will make your life easier.
Unfortunately, you will not know the size of your baby and how fast they may grow. Therefore, the following are recommendations using averages.
Also, newborn summer clothes and newborn winter clothes are equally important, so determine the time of year, the climate in which you live, and how old the baby will be.
Moreover, for the most part, keep tags on most of the clothing you purchase or receive until the baby grows into that size. This way, you can return/exchange sizes that do not fit or that you do not need.
As your baby grows, you will get the hang of sizing your baby's clothing.
A fun and frugal tip: While shopping with your baby, buy clothes at the end of the season as they are usually on sale. You can shop for the next year by calculating how old your baby will be and size from there.
Here is some more advice: The first two or three weeks at home with the baby tend to be HECTIC. When preparing for your baby's arrival, you will want to consider washing the clothing you need (and only what you need) before the baby is born to have them ready. Use a dye-free, sensitive skin detergent such as ALL Free and Clear or Dreft.
It will be one less thing to think about during the days (and nights) when you walk around like a zombie.
Now, as far as the best newborn baby clothes to have on hand, here are some recommendations:
According to WebMD, babies start to regulate their body temperature at about 11 weeks old. At that point, you can dress your baby as you would dress. But before then, you should add another layer compared to what you would comfortably wear.
Nonetheless, there is a benefit to putting a onesie or bodysuit under your baby's outer clothing, no matter their age.
You can keep your baby comfortable by layering their clothing according to the environment. Depending on the temperature in the room, you can take off layers; depending on the outside temperature, you can add layers.
Think of the onesie as your base layer (besides the diaper). 
Moreover, be sure to factor in the season and weather when choosing long-sleeved or short-sleeved onesies. 
Have six to eight clean onesies on hand for two days.
Sizes
Newborn: 3-6 pieces, if any
0-3 months – 12 months: 8-10 pieces for each size
Other than onesies, sleepers are another "must-have" article of clothing for your baby. He will probably spend most of his time wearing a sleeper. When choosing which to purchase, some things to think about are the closures, the fabric, and the "footies."
You can choose from snap closure, zipper closure, button closure, and magnetic closure sleepers. The magnetic closure sleepers are relatively new, so you should ensure the Consumer Product Safety Commission approves the product.
Nevertheless, when choosing sleepers, purchase the type of closure with which you feel most comfortable.
Additionally, look for light cotton sleepers for the warmer weather and heavier sleepers (such as fleece ones) for the colder weather. You want to clothe your baby in a comfortable fabric for his sensitive skin, so cotton and/or organic, soft clothing is best.
Lastly, there are also various options for sleepers in terms of "footies." If the sleeper has an enclosed space for your baby's foot, you will not need to put socks on him. If not, socks are essential. Just an FYI: Baby socks are small and cute, and easy-to-lose.
Whichever you choose, have at least five to seven sleepers for two days.
Sizes
Newborn: 3-6 pieces, if any
0-3 months – 12 months: at least 5-7 pieces for each size
Sleep Gowns or Sleep Sacks
These may become your best friends!
According to Healthline, you should not put a blanket on your baby while she is sleeping for at least the first year. But don't worry, your baby doesn't have to be cold while she sleeps. She also shouldn't be too hot either. That's why sleep gowns and sleep sacks are so helpful.
Sleep gowns are nightgowns cinched at the bottom. They are lovely for sleeping in the warmer weather and make it incredibly easy to change your baby in the middle of the night.
Sleep sacks are enclosed gowns and are a great alternative to blankets. Slip one on over your baby's clothing and lay her down. It's as easy as that.
HALO Sleepsack Cotton Wearable Blanket, TOG 0.5, Wildflower Blush, X-Large
SleepSack nestles baby like a soft blanket, without the risk of sleep-related dangers. Used by hospitals nationwide as their swaddle of choice for safe sleep education.
"Back is Best" embroidery is a gentle reminder to place baby in the recommended sleep position.
Features a 2-way zipper for easy diaper changes and a roomy sack design that's recognized by the International Hip Dysplasia Institute as promoting healthy hip development.
Sleeveless design reduces the risk of overheating. Use over regular sleepwear to take the place of loose blankets. Discontinue swaddling when the baby shows signs of rolling over or breaking out of the swaddle wrap.
Be sure to choose the right size for your little one, though. This is very important.
And regardless of which type you choose, you will want to buy ones with the suitable material for the weather.
Since you will use these primarily when the baby is asleep, having two to three for two days is a good rule of thumb.
Sizes
Newborn: 1-3 pieces, if any
0-3 months – 12 months: 3-4 pieces for each size
For the first couple of weeks, you will most likely want to stick with the sleeper: the user-friendly option. However, if you'd like to have some outfits on hand, it's best not to go overboard when buying newborn clothing.
First, many family and friends may purchase baby gifts for you, and many of those gifts will include outfits. However, even if you don't receive outfits, choose only a few to have on hand; otherwise, the baby may never wear each outfit.
Most often, parents find that they have so many outfits that they cannot possibly have their babywear every single one. Therefore, when it comes to outfits, wash just a couple at first. This way, you can return any to the store if they still have the tags. You can then buy larger sizes or other items you may need.
Take into consideration the weather as well. You don't want the baby to wear winter clothes in the summer heat. Make sure you are purchasing the right size for the time of year.
Some adorable outfits come with accessories, too! For instance, this cute outfit comes with a little headband, while this one has a sweet hat to match. This is a bonus.
Having two or three outfits for the first two weeks is a good rule. After that, two or three per day is sufficient.
Sizes
Newborn: 2-3 outfits, if any
0-3 months-12 months: at least 5-6 outfits for each size
The best newborn baby accessory is a hat! Have some comfortable cotton hats (beanies) on hand for the summer. For the winter, have some heavier ones as well.
If you have your baby outside in the summer, a  wide-brimmed hat is important. You want to cover her little ears and neck to protect her from the sun.
As far as socks, six or eight pairs is probably enough, especially if you have many footie sleepers or outfits. Babies tend to kick off their socks with all the movement they make. But, of course, you need to keep their feet warm with some socks if their clothing doesn't have footies.
Fruit of the Loom Baby 6-Pack All Weather Crew-Length Socks, Mesh & Thermal Stretch – Unisex, Girls, Boys (0-6 Months, Blue)
YEAR ROUND FOR EVERY CLIMATE : Warm or cool? These socks are a great option for temperature changes anytime of the year.
NON-SKID AND COMFORT FEATURES: Cushioned foot soles provide additional comfort and non-skid grippers help to minimize slipping.
PACK INCLUDES 6 PAIRS OF SOCKS: 3 pairs of cooling mesh socks and 3 pairs of thermal waffle socks in colors to match every outfit.
EASY CARE: Machine wash and tumble dry.
TRUSTED FRUIT OF THE LOOM QUALITY: Look for our new bundles of matching essentials that are just right for every baby. 
Blankets are one of the most tempting items to purchase. While they are super cute, be sure to use them appropriately.
Swaddling is comfortable for the baby, especially during the first few weeks. There are lovely cotton blankets (often called receiving blankets) in which to swaddle your newborn baby. And they make specific blankets for this reason, such as these adorable ones.
When you take the baby outside in the car seat or stroller, a blanket can be a layer of protection from the elements. Again, the material should fit the temperature and weather. For something to keep the baby warm, a precious sherpa blanket will work.
Again, just be careful with blankets as they can be dangerous for your baby if used inappropriately.
Mittens are often forgotten about but can be helpful, especially when the baby's fingernails might be too long. It's sometimes hard to clip them, so mittens are a great way to protect your baby from scratching herself.
9 Pairs Newborn Baby Mittens Infant Toddler Gloves No Scratch Mittens Unisex Cotton Gloves for 0-6 Months Baby Boys Girls (Multiple Colours)
Thoughtful designs: the wrist parts of the no scratch baby mitten gloves is elastic, making them easy to put on and take off, keeping the gloves stayed tightly on baby's small hands and fit snugly to protect the baby from self scratching and cold air; These newborn baby cotton gloves come with enough space, which allows the little kids to move their fingers flexibly and comfortably without bringing discomfort or tightness
Comfortable material: these no scratch mittens are made of cotton, which is comfortable, soft and friendly to baby's skin, lightweight and breathable, washable and reusable, reliable material ensures nice durability and exquisite craft makes them not easy to fade and break, comfy to wear and can serve your kids for a long time
Applicable ages: the elastic cotton mittens measures approx. 3.5 x 2.7 inches/ 10 x 7 cm and are designed in a proper size for newborns from 0 to 6 months old, providing enough space for your baby's hands and fingers to move flexibly inside the gloves without making them feel too tight or loose
Multiple applications: these soft baby mittens can be worn for various occasions, such as baby shower, birthday party, walking, home, backyard, family gathering, party, playing even sleeping, and they can also be applied as lovely photo props to help you take memorable photos for your kids
Sufficient quantity: you will receive 9 pairs of lovely no scratch gloves, available in 3 colors, easy to match and offering nice combinations for daily replacement and daily wear, you can also share the cotton mittens with the babies of your friends and family
There are onesies, sleepers, and outfits that have mittens built right into the clothing. These tend to stay on the baby easier.
If you want to go a little crazy with headbands or hats, that's up to you. They are an easy way to spruce up anything the baby is wearing.
Have as many as you'd like for two days with any accessory mentioned above.
Sizes
There aren't many "sizes" to choose from, except for hats and socks. Keep as many as you see fit for each stage of your baby's development.
This list will help you plan for your baby's arrival, or for helping out a friend when purchasing something for her baby. It can become overwhelming, but you will absolutely get the hang of it. Do what is best for you and your baby, and always keep in mind that layers are your friend. Soon enough, you will have an adorable collection of items for your newborn baby.