We occasionally link to products offered by vendors to help our readers find relevant products. Some of these links may be affiliate in nature, meaning we earn small commissions if items are purchased. Click here to learn more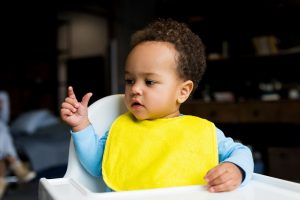 Baby bibs are the best! If you want to buy something cute for your baby, but you can't afford it, you can buy an adorable bib for little or nothing. Bibs keep baby's clothes clean so you don't have to spend a lot of time doing laundry. And when babies turn into little drool machines, bibs can keep them dry and prevent drool rash.
Bibs used to come in two major styles. There were little round bibs that were never big enough to keep the strained carrots off baby's clothes. And there were bigger ones with a pocket at the bottom. If you ever forgot to check the pocket after a meal — ewww! Mommy surprise.
Today there are bibs in a dozen or more styles, made from a variety of materials and with some ingenious designs. You'll want a variety for different purposes, and extras for the grandparents' houses and for daycare or mother's day out. Bibs are great for giving, too. A cute bib puts the finishing touch on a shower gift when a pal is expecting, and you can wrap one up for Grandma to let her know that there's another baby on the way!
Check out this preview of our best bibs for baby.
*All product links in this article will take you to the latest prices on Amazon.com, scroll down for our in-depth reviews below.
Bibs to Protect Baby's Clothes
The main reason for using bibs is to protect baby's clothes. Even before baby starts gobbling peas, you'll want to use a bib to protect clothing from milk.
Both breast milk and formula can stain, although formula stains are much worse. If you don't use a bib, baby's clothes will soon have hard-to-hide stains around the neck. And it is sad to see a favorite outfit ruined!
When baby starts solid food, you'll really need bibs. In fact, some bibs for this stage are more like smocks, and that's not a bad idea. As baby gets better with a spoon and fork, you may be able to reduce the coverage, but you'll still need a good-sized bib.
Bibs to Soak Up Drool
The second reason for baby needing a bib is baby drool. Contrary to conventional wisdom, when your baby first starts to drool, cutting teeth isn't the culprit.
Instead, around two months of age babies start to salivate more, as their systems are getting ready for solid food. The problem is that they don't have great control of the muscles of the mouth. They don't really know what to do with spit, so they just let it leak out of their mouths.
Saliva has many purposes besides giving busy moms one more thing to do. It rinses bacteria out of the mouth. The part that is swallowed aids in digestion. And it's a natural antibiotic.
About the time babies start to drool less, they do begin to teethe, and they then drooling may increase again. (Most babies get their first tooth around 6 to 8 months of age.)
Drooling will finally mostly stop around 2 years of age, but during all those months of on-and-off drooling, you'll need bibs to soak up the spit. Drool rash may develop if your baby's skin stays wet with saliva.
Drool rash commonly occurs on baby's chin, neck and chest. It is caused by wetness, so it will be less likely to occur if you soak up as much spit as possible with a bib.
It also helps to wash the drool off your baby a couple of times a day. Be sure to get in the folds around the neck. A little petroleum jelly or other emollient creams can be used as a moisture barrier.
What to Look for in a Bib
Choosing the right bib for your baby isn't as simple as it seems. First, you'll need to consider the purpose. Bibs to catch drool can be smaller and simpler than ones used to protect clothing.
When you're picking out feeding bibs, you should consider what stage of feeding your child is in. Babies who are just starting to feed themselves may be in the super messy stage and may need a bib with sleeves.
Here are some other factors to think about:
Comfort
Touch the part of the bib that will go around baby's neck. It should be soft, not scratchy. If your baby has hair that is neck-length or longer, the bib shouldn't get tangled in baby's hair.
If you're shopping for a fabric bib, cotton is a good choice. If the fabric has a waterproof backing, be sure it doesn't make the bib too stiff or itchy.
Fit
Be sure that the bib won't be too tight around baby's neck, especially if your baby has those cute neck rolls. If you are choosing a bib with sleeves, be sure that the sleeves and armholes aren't too tight. If it takes a wrestling match to get baby into the bib, you'll never use it.
Cleaning
Will the bib be easy to clean? The silicone bibs that wipe clean are the ultimate in ease, but they aren't suited for soaking up drool.
If you are choosing a fabric bib for feeding, you should realize that sooner or later the bib may get stained. If you choose a darker color or a print, the stains won't show as much.
Folding
Most bibs fold easily for storage or travel. The silicone type can be quite bulky, although some of them roll for more compact storage.
Style
If your baby needs to wear a bib, why not make it fun? You can either choose solid colors that coordinate with baby's outfit, or you can make the bib the star and pair it with a onesie or other plain togs.
Materials for Bibs
If you are concerned about toxins touching your baby's skin and also about the planet, you may want to think about which materials to choose for your baby's bibs.
Silicone
The newest materials to be tapped for bibs, silicone has several advantages. It is waterproof, leakproof, easy to clean and soft to the touch.
Silicone is considered an eco-friendly product, in part because it lasts a long time. When used instead of plastic, it keeps a lot of plastic waste out of the oceans and landfills.
Silicone is created from some of the most abundant resources on the planet – namely, quartz, usually in the form of sand, and oxygen.
Energy is consumed in its manufacture, however, Silicone is also recyclable, although it can be hard to find a facility that accepts it.
Cotton
The classic favorite because of its soft feel and ease of laundering, cotton continues to be a popular choice for bibs. It's also breathable and moisture-wicking.
Its softness and absorbency make it an especially good choice for drool bibs. Cotton is all natural, but the traditional farming methods for cotton involve pesticides, fertilizer and lots of water.
Natural or Eco-Friendly Choices
Some cotton-lovers who are concerned about the environment look for organic cotton, which is grown and processed using natural processes rather than chemical ones.
Some environmentally conscious moms seek out products derived from bamboo, because it is a sustainable crop that requires no pesticides and very little water.
Paper
Disposable bibs made primarily of paper are a good option for certain situations. For the sake of the planet, they probably shouldn't be an everyday choice, but some moms swear by them for travel and eating out. Some moms like to keep one in the diaper bag and one in the car for unforeseen circumstances.
Safety Concerns
Due to concerns about strangulation, most products for babies no longer use long ties. Most modern bibs close with Velcro or snaps.
Some are designed so that no closure is needed. A few bibs for bigger children may still use ties, but they are typically short ties that don't present a safety hazard.
Babies should not be allowed to sleep in bibs, as they could become caught on something or trapped under the body and pulled too tight during sleep.
With these considerations in mind, take a look at some of the best bibs for baby.
Best Baby Bibs
Lots of bibs feature carton animals, but Modern Twist decorates four of its bibs with adorable lifelike animals. Choose from a llama, sloth or otter, all created by an independent artist and looking real enough to touch.
Designs are individually silk-screened on the bibs, which are made of a extra soft silicone. (If you prefer the cartoon animals, this company has them, too.)
One of the advantages of silicone bibs is that it's possible to mold them with a scoop or "bucket" in front to catch spills. Bibs of this design are great for catching crumbs and spills.
A few babies dislike this style, or can't resist playing with the bucket part, which sort of defeats the purpose. Still, the bucket design works great for most babies.
The Modern Twist bibs come in one size, which is suitable for babies from about 6 months of age on up. Modern Twist is a San Francisco-based company that specializes in decorative items made of silicone.
PROS & CONS

Pros:
Non-Toxic. This bib is made from food-grade silicone, and it is free from lead, latex, phthalates, PVC, BPA and other toxic chemicals.
Easy to Store. You can roll the bib for storage and portability.
Machine Washable. This bib can be wiped clean or washed in the dishwasher.
Generous Cut. The neck closure has six holes, so this bib can be adjusted as your baby grows.
Varied Designs and Colors. The bibs come in a variety of animal motifs and in a nice range of colors.
Cons:
Material May Tear. Due to the extreme softness of this silicone, some users reported small tears, especially around the closure holes. These tears were usually reported after some months of service.
High Priced. This item is in the moderate to high price range.
---
The story behind Anais + Aden spans two continents. Raegan Moya-Jones, an Aussie transplanted to New York, created the company after searching in vain for the muslin blankets that moms in Australia use for swaddling their babies.

Today moms in many countries swear by Anais + Aden's super-soft products. Mostly rendered in cotton muslin, the company also offers some items in organic cotton and some in a rayon/viscose derived from bamboo.

Another Anais + Aden specialty is making multi-use products. These burpy bibs are dual purpose. As a burp cloth, the kidney-shaped cloths drape nicely across mom's shoulder.

As bibs, they are wrapped around baby and snapped in back. With four layers for absorption and a generous cut, burpy bibs are available in a multitude of patterns that are more artsy than cutesy.

The company website claims that Anais +Aden prints have a "modern aesthetic" and that there is a story behind each pattern. The company also makes bandanna-style drool bibs and a more traditional snap bib.

This particular bib is in the "silky soft" line because it is made from bamboo-sourced viscose. This makes for a more luxurious feel than the cotton muslin. One mom said that these bibs win oohs and aahs when passed around at baby showers, because no one can believe how soft they are.

PROS & CONS

Pros:
Dual-Use. This Anais + Aden burpy bib can protect baby as a bib or protect mom's clothes as a burp cloth.
Full Coverage. This bib covers baby's chest and arms to save baby's clothes from stains.
Easy to Clean. This bib is machine washable.
Soft and Absorbent. The fabric is silky soft but still absorbs moisture.
Eco-Friendly. Bamboo is an eco-friendly choice, which is important to some moms.
Cons:
Lacks Strength, Absorbency. Some users do not like the bamboo-derived viscose because it is not as absorbent and sturdy as the cotton muslin that Anais + Aden uses for most of its products.
High Priced. This item is in the moderate to high price range.
---
If you want a bib that will make you smile every time you look at it, you won't go wrong with the Tuck-Away Bibs from Skip Hop Zoo.

The bibs are available in nine designs: bee, panda, monkey, unicorn, dog, owl, hedgehog, dinosaur, ladybug and butterfly. The animal's face appears on the front of the bib, and some of the designs have little ears, wings or other details added to the sides or tops of the bib.

The designs coordinate with other items in the Skip Hop product line. You can buy matching dinnerware, water bottles, backpacks and more.

The Tuck-Away Bib has two features that moms will appreciate. One is the pocket on the bottom of the front that serves as a crumb catcher.

Then there's a second pocket on the back that allows you to fold the bib with the dirty side inward. After you have used the bib away from home, you can neatly "tuck it away" until you can get it home.

Skip Hop is part of a family of products that includes Carter's and Oshkosh B'gosh. The company motto is "Must-Haves Made Better." For sure, Skip Hop makes must-haves cuter.

PROS & CONS

Pros:
Fun for Mealtime. The Skip Hop Zoo designs make mealtime more fun for the whole family.
Easy to Fasten. This bib closes with Velcro, so moms don't have to struggle with snaps or buttons.
Great for Away. The Tuck-Away feature is designed to make the bib easy to transport and use away from home.
Easy to Clean. This bib is machine washable.
Safe for Baby. This bib is BPA-free, PVC-free and phthalate-free.
Affordable. These bibs are moderate in price.
Cons:
Not Waterproof. The company labels these bibs as water resistant rather than waterproof.
Not Durable. According to some users, the faces printed on the bibs may start to show wear in a short time, especially if the item is not hand washed, although the company suggests machine washing.
---
Cars aren't the only things that are hybrid these days. OXO has created a hybrid bib. The top part is nylon fabric, and the bottom half is a silicone pocket for catching spills.

If you're eating on the go, when mealtime's done, you can roll the fabric portion into the silicone pocket. There's a little fastener to hold it closed until you can get home to wash it.

OXO is the company that's known for ergonomic kitchen tools. Like those tools, this bib is more functional than attractive. It is, however, available in a rainbow of solid colors and a couple of pretty prints, too.

PROS & CONS

Pros:
Non-Toxic. The OXO Tot Roll-Up Bib is made from nylon and silicone, and it is free from lead, latex, phthalates, PVC, BPA and other toxic chemicals.
Easy to Store. This bib rolls up for storage and portability and has a fastener to keep it closed.
Machine Washable. This bib can be wiped clean or machine laundered.
Adjustable Neck. The neck closure features a long strip of Velcro that makes the neck size adjustable. .
Varied Designs and Colors. The bibs come in a range of colors and patterns.
Cons:
Fabric Prone to Mildew. Some users said that the fabric part of the bib grows mold or mildew, even when air dried.
Fabric Prone to Stains. Some users said that it is very difficult to get stains out of the fabric part of the bib.
Doesn't Fasten Securely. Some moms said that the Velcro doesn't hold tightly enough and that their babies easily pulled off the bibs.
High Priced. This item is in the moderate to high price range.
---
The neck is definitely a problem area when using bibs on babies. If the bib doesn't fit snugly around the neck, food and milk can seep under the bib and stain baby's clothes. If the bib fits too snugly, it may irritate baby's tender skin.

Tommee Tippee has a better idea with the Closer to Nature Comfi Neck Bib. It features a soft padded collar that serves as a dribble catcher but will not irritate baby's neck.

It's great for early feedings when a lot of milk leaks out of baby's mouth. It's also good for babies in the drooling stage.

This bib is reversible for two different looks. One side is a solid-color terry, and the other is a cute print. Available in a twin-pack, this bib also features a Velcro closing for ease of use. T

he maker, Tommee Tippee, is a British company known for innovative baby products, starting with the original tip-proof baby cup.

PROS & CONS

Pros:
Multi-Purpose. The Tommee Tippee Comfi Neck Bib is good for bottle feeding, breast feeding and solid foods, as well as working as a drool bib.
Dribble Catcher. The unique padded collar soaks up leaks around baby's neck.
Easy to Fasten. This bib closes with Velcro, so there's no fighting snaps or buttons.
Adjustable. The Velcro strip is long, so that you can fasten it to fit baby's neck precisely.
Soft Velcro. The Velcro is soft so that it won't scratch baby.
Easy to Clean. This bib is machine washable.
Affordable. This item is budget-friendly.
Cons:
Not Waterproof. This bib lacks a waterproof layer, so it won't necessarily keep baby dry.
Shrinks in the Wash. Some users said that the bibs shrank slightly in the wash, with the two materials shrinking differently so that the bibs no longer lay flat.
---
Sometimes baby needs a little more coverage! When your baby graduates from finger food to eating with a spoon, spills are bound to occur. That's when you need the Bumkins Sleeved Bib. It's designed to keep babies clean even when they are in strained carrots up to their elbows.

Designed for ages 6 months to 2 years, the Bumkins Sleeved Bib features elasticized sleeves and a tie back. The tie is to thwart bigger babies who have learned how to remove Velcro-ed bibs with a hard yank.

There's also a pocket to catch food that's dropped or dripped below. The bibs are available in 18 cute prints, plus designs based on DC Comics, Nintendo characters and other favorite motifs.

Bumkins makes these bibs from their own waterproof fabric, which is polyester with Bumkin's proprietary coating. The bibs are machine washable, but must be hung to dry, with pocket flipped so that it doesn't hold moisture.

Many moms choose to dunk them in the sink rather than machine wash, as long as baby hasn't been eating something really messy.

Bumkins is a Phoenix-based company that got its start making waterproof covers for cloth diapers. The long-sleeved bibs are "responsibly made in China," according to the company website.

PROS & CONS

Pros:
Waterproof. The Bumkins Sleeved Bib is waterproof to shield baby from drips and spills.
Generously Sized. The large size of the bib means that moms have a better chance of keeping baby clean.
Variety of Designs. The designs are super cute, and older children will enjoy the character options. Secure Fastener. Some moms have found that bibs that tie closed are harder for baby to pull off than those that close with Velcro.
Easy to Clean. This bib is machine washable but can also be dunked or wiped clean.
No Toxic Materials. These bibs are free of PVC, BPA, lead, phthalates and vinyl.
Multi-Purpose. These bibs could also be used for arts and crafts projects.
Cons:
Not Comfortable for Some Babies. Babies with sensory issues may not like the stiffness of this bib, plus the material is not breathable and so can cause baby to sweat.
Hard to Put On. Some moms said that the sleeves make the bib hard to put on.
Ties Don't Stay Tied. Some users said that the slippery fabric causes the ties to come undone.
Not Durable. Some users said the bibs ripped easily, especially in the back where the ties are attached.
Not Budget-Friendly. These bibs are in the moderate to high price range.
---
The bandanna bib has to be one of the cutest baby fashion trends to emerge in recent years. Besides being cute, these bibs are great drool bibs, and nobody does them better than Matimati.

These bibs feature a two-layer design, with the top layer of organic cotton and the bottom layer of polyester fleece.

Matimati is a family-owned business that started out exclusively manufacturing and marketing bandanna-style bibs. They now handle a few other products, but the bibs are the foundation of the business.

The company is known for designs that are attractive but not really babyish, with lots of geometrics and neutral shades.

PROS & CONS

Pros:

 
Absorbent. Most moms said that the Matimati bandanna bibs kept their children dry even though they don't have a waterproof layer.
Nickel-Free Snaps. The bibs fasten securely with snaps that contain no nickel.
Adjustable. Two snaps allow you to adjust the fit of the bibs.
Variety of Designs. Matimati makes these bibs in an assortment of cute styles, some gender specific and some gender neutral.
Machine Washable. These bibs can be machine washed and dried without shrinkage.
Organic Cotton. The bandannas feature eco-friendly organic cotton.
Budget-Friendly. Available in four-packs or eight-packs, these bibs are very affordable, although bandanna bibs are generally cheaper than other models.
Cons:
Bunched Up at the Neck. Some users said that these bibs bunched up around their babies' necks.
Issues With Fabrics. Some users experienced problems with fading or with the colors bleeding.
---
With the cute prints and the helpful pocket at the bottom, Bibsters could almost make you forget that they are disposable, until you remember that you can toss instead of wash.

Previously owned by Pampers, Bibsters are now made and marketed by Neat Solutions. The bibs have a three-layer design with a soft top layer, an absorbent middle layer and a leak-resistant backing. They are sold in a large size for babies 6 months old and older and in a smaller size for infants.

PROS & CONS

Pros:
Water-Resistant. Bibsters Disposable Bibs will protect your baby from normal drips and dribbles.
Pocket on Bottom. The pocket at the bottom catches dropped food and small spills.
Cute Designs. The Sesame Street designs are fun to look at.
Great for On-the-Go. These bibs are great for travel, outings and restaurant use. No more carrying a dirty bib around!
No Toxic Materials. These bibs are free of PVC and BPA.
Budget-Friendly. These bibs are quite affordable for occasional use.
Cons:
Fastener Not Secure. Some users report that the Velcro-style fastener is too easy for babies to pull open.
Pocket Closes Up. The pocket on the bib doesn't stay open, meaning that it doesn't always catch spills.
---
Did Burt's Bees Baby have a better idea for a bib? Adapting the lap shoulder style of a classic onesie, Burt's created a bib with no need for a fastener.

The company made the design even better by using soft, organic cotton. Available in pink, blue or gender-neutral gray, the bibs are backed with soft terry.

Burt's Bees Baby is a trademark of the original Burt's Bees, known for its iconic founder and its products made of beeswax. Burt's Bees Baby offers all organic products.

PROS & CONS

Pros:
Organic. Burt's Bees uses cotton that meets Global Organic Textile Standards (GOTS).
Soft. The bibs are super soft and won't irritate baby's tender skin.
No Fastener Needed. The bibs stay in place since there is no fastener to fail.
Machine Washable. These bibs can be machine washed and dried.
Safe for Baby. There's no Velcro to scratch baby, and they won't get accidentally put on too tightly.
Budget-Friendly. Sold in four-packs, these bibs fall into the low to moderate price range.
Cons:
Not Waterproof. Since the bibs are all cotton with no water-resistant materials used, they don't keep baby's clothes dry.
Neckhole Too Large. Some users said that the large hole for the neck allows food and liquids to spill on baby's clothing.
---
Here's another good idea! These cute bandanna bibs by Nuby have built-in teethers. The corner of the bib is actually a teether made of pure silicone, textured for more teething satisfaction.

The rest of the bib is pure cotton muslin, and there's a Velcro-style fastener. Because the teether is practically indestructible silicone, you can even put this bib into the washer and the dryer.

Nuby, based in Louisiana, has been in the baby business since 1970. It is known for innovative products that are sold around the world.

PROS & CONS

Pros:
Great Design. The Nuby Soft Trends Bib with Teether is an ingenious design.
Safe for Baby. The cloth portion is 100% cotton, and the teether is BPA-free silicone.
Soft. The cotton is super soft and won't irritate baby's tender skin.
Cute Prints. The bibs are available in a variety of cute prints.
Adjustable. The Velcro fastener lets you adjust the bib to size.
Machine Washable. These bibs can be machine washed and dried.
Budget-Friendly. Sold in twin-packs, these bibs are low to moderate in price.
Cons:
Not Waterproof. The bibs are all cotton with no water-resistant materials used.
Too Small. Some users said that the bibs run small and that this makes the teether hard to get into baby's mouth.
---
These cute bibs featuring animals with big smiles will make your smile, but there's more to love than the way the bibs look. DuraBib Big Mouth Bibs by Dex Baby feature a patented pocket that you snap in place to catch messes and unsnap for easy cleaning.

No more digging food out of the corners of the pocket! The pockets also fit into the design, forming the bottom half of the face of a lion, elephant, puppy or other friendly creature.

Solid in four-packs, these bibs come in two sizes, one for infants up to 6 months of age and the other for older babies. The manufacturer recommends hand washing or placing the bibs in the dishwasher, but many users said that they do just fine in a clothes washer, too.

PROS & CONS

Pros:
Waterproof. The DuraBib Big Mouth bibs have a polyurethane surface and a lining of polyester and cotton, so they are both leakproof and comfy.
Cute Animals. The big-mouthed animals make cute bibs that most babies will love.
Clever Design. The pocket that opens and closes with snaps is a useful feature for easy cleaning.
Adjustable. The neck closure consists of two snaps so it can be adjusted for your baby.
Easy to Clean. These bibs can be put in the dishwasher or simply sponged clean.
Guaranteed. All Dex Baby products have a limited lifetime guarantee, good for the "effective life" of the product.
Budget-Friendly. Sold in four-packs, these bibs are low to moderate in price.
Cons:
Leaky Pocket. Some users said that the snap-up pockets won't hold liquids.
Need Immediate Washing.  Some moms said that these need to be cleaned promptly, as dried on food may cause the pictures to peel.
---
If your baby is past needing cute little drool bibs and instead needs large-scale protection, it's Toppy Toddler to the rescue! These basic but cute bibs feature a double snap closure on the shoulder, where it's easy for parents to access.

Even better, the snaps are reinforced so they won't pull out of the cloth.

The bibs are reversible, with polyester cloth on one side and a waterproof laminate on the other. Either way, your child's clothes will be protected.

Another big plus is that these bibs can be machine washed and dried, as long as the dryer is set on low heat. If you prefer hand washing and air drying, they should dry in about 20 minutes, as long as they are placed in an area with good air circulation.

Bibs come in bright basic colors trimmed with white edging. Bibs are Toppy Toddler's only product, and their products are used in over 700 daycare centers. The bibs are made in the U.S. from fabrics that are also manufactured in the U.S.

PROS & CONS

Pros:
Basic But Reliable. The Toppy Toddler bibs don't have a lot of extras, but they are a high-performance product.
Grow With Baby. With a generous 13" X 18" surface, these bibs should fit children aged 1 to 5. The company also makes a smaller bib for younger children.
Waterproof. The bibs are made of a polyester fabric with one side coated with polyurethane so that it is waterproof. They can be worn with either side up.
Secure Closure. Most users said that the snap closures were more secure than Velcro.
Safe for Children. These bibs are free of BPA, PVC, latex, phthalates, lead and other toxic substances.
Easy to Clean. These bibs can be machine washed and dried in the dryer on low heat.
Budget-Friendly. Sold in five-packs, these bibs are low to moderate in price.
Cons:
No Pocket.  With no pocket on the bottom, some users said that spills went straight down to their children's clothes.
Will Mildew. These bibs will mildew if they are left sitting while damp or if they are not allowed to dry completely.
---
And the Winner Is!
Because of its perfect combination of fun and function, the DuraBib Big Mouth bib gets the nod. After all, the main purpose of a bib is to keep baby clean. That can be a big job, but the generous size and waterproof design of the DuraBib equal superior performance in that area. The snap-up pocket is a welcome innovation, and the way the pockets function as part of the Big Mouth design is just too cute.

The Matimati bandanna bibs are also winners, but they have a more limited span of usefulness than the more versatile DuraBib. The Modern Twist Silicone Baby Bucket Bib is also a great design that many moms will love. But the DuraBib Big Mouth will meet the needs of most moms and babies. And it will make you smile.