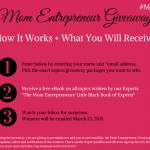 Best Mom Products + Nest Consultants Launch
Mom Entrepreneur Online Giveaway #MEG
to help mom entrepreneurs start and grow their business
SAN FRANCISCO/SAN DIEGO, CA  March 2, 2015 — Rachel Olsen, Founder, Best Mom Products, the go-to media site for mom entrepreneurs launching their business, and Flesché Hesch, Founder, Nest Consultants, a leader in coaching mom entrepreneurs announce their Mom Entrepreneur Giveaway #MEG.
Giveaway entrants will have their choice of over 50 eCourses + Consulting packages to choose from worth $20k and provided by 13 top experts helping moms launch and grow their business.
Beginning on Monday, March 2, 2015, mom entrepreneurs who enter the online giveaway through www.momentrepreneurgiveaway.com or the Facebook page https://www.facebook.com/MeetMEG will have the opportunity to choose one or more specific giveaway packages based on the topics and business services they are interested in winning.
Every entrant will automatically receive a crash course in all topics by receiving the ebook The Mom Entrepreneurs' Little Black Book of Experts, a collaboration of chapters written by each Expert with topics ranging from:
Mind Organization
Self Care
Time + Stress Management
Financial Planning
Accountability
Starting a Mom Friendly Business
Idea Validation
Getting a Product in Retail Stores
Intellectual Property
Funding
Branding
Public Relations
Marketing
Creating an Online Course
Growing a Tribe
Becoming an Amazon #1 Bestseller
According to the National Association of Women Business Owners, the number of women-owned businesses nationwide has been on the rise, up 68 percent between 1997 to 2014. Comparably, the number of U.S. businesses grew 47 percent in the same period.
To support women's growth, many who are moms, Rachel and Flesché wanted a way to inspire and encourage them to find and live their passion while providing the resources they need to move forward.
"Being moms we know how strapped for time we all are and we are trying to pay it forward by providing high level resources, and education-at-their fingertips to empower and encourage mompreneurs to keep going! " said Rachel Olsen, Founder, Best Mom Products.
"Managing a family and business with minimal start-up funds limits mom entrepreneurs ability to accelerate their business quickly so we want to give them the boost they need by providing what we wished we had starting out" said Flesché Hesch, Founder, Nest Consultants.
The giveaway is free to enter and runs March 2-20, 2015.  Winners will be announced Monday March 23, 2015 via email.
For more information, please visit http://MomEntrepreneurGiveaway.com/.
About Rachel Olsen,  Founder, Best Mom Products:
Rachel Olsen, Founder, Best Mom Products, a digital media company where Rachel interviews, educates and consults for mom entrepreneurs who are looking to get the media and marketing buzz they need to gain exposure and credibility for their business. She is also the Amazon best-selling Author of the Barbara Corcoran endorsed book Shark Tank MOMpreneurs Take A Bite Out of Publicity: How 5 Inventors Leveraged the Media to Build their Business and How You Can, Too.
About Flesché Hesch, Founder, Nest Consultants:
Flesché Hesch, Founder, Nest Consultants is the Business Advisor for Moms. A champion of Moms worldwide, she brings her training as a Marriage & Family Therapist, Meditation Teacher, and Small Business Coach and Strategist together to create the most positive and empowering Coaching programs for Mom Entrepreneurs to grow 6+ figure businesses!
###
Press Contact:
Rachel Olsen
rachel@bestmomproducts.com
415.690.8277